Parent Season Pass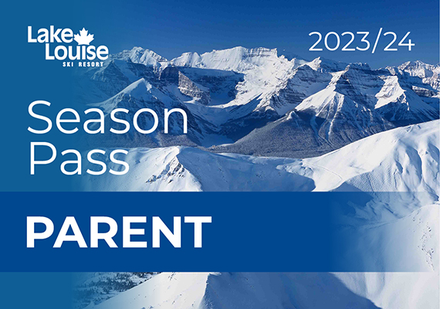 Product Description
VALID TO BE SHARED BY TWO PARENTS AGES 18 TO 79
This pass can be shared between two parent and provides unlimited Lake Louise lift access from opening day on November 3, 2023 to closing day on May 5, 2024. Includes same day complimentary Learning Area ticket for the other parent. A Parent Spring Pass can only be purchased in conjunction with a Child or Tiger Pass. Lake Louise reserves the right to determine final decisions on all family circumstances relating to non-conventional families. Show your pass to save on lessons, rentals, dining, hotel stays, retail purchases, tickets at partner resorts, and much more!
*Parent Season Passes are for adults who are 18 to 79 years of age as of November 1, 2023.
INSTALLMENT PLAN
Pay just 25% of your Season Pass price now and start skiing on opening day! Three additional payments of 25% each will be billed to your credit card on November 15 (25%), December 15 (25%), and the final payment on January 15 (25%). Please note that you are required to make all four payments. Any outstanding balance at the end of the season will be subject to penalty.
RECEIVING YOUR PASS
We will send you a "Waiver Invitation" email in the near future with instructions on how to receive your new pass. Have questions? Feel free to email us at info@skilouise.com or call 1 (877) 956-8473.
REFUNDS
Cancel your unused 2023/24 Season Pass any time before winter opening day and receive a full refund less a $40 processing fee. For extended refund options, we recommend adding the "Refund Insurance" option to your Season Pass order.
<'p>Note: See Terms and Conditions for important information regarding liability, conditions of use, installment plan, and refund insurance.
Parent Season Pass
CA$1,799.00
Available