Grade 2 Season Pass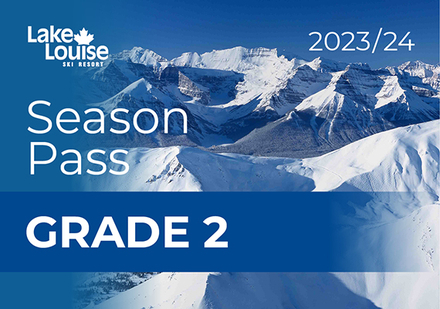 Product Description
VALID FOR KIDS IN GRADE 2
This very affordable pass gives your child access to free skiing all season long for only a $40 processing fee. Grade 2 Pass is available to children in Alberta and Southeastern BC. You will be required to show proof your child qualifies for this pass by presenting one of the following at time of pass pickup:
Birth Certificate.
Alberta Health Care Card or BC Health Care Card.
Current Grade 2 Report Card.
Last year's Grade 1 Report Card.
This pass provides unlimited Lake Louise lift access from opening day on November 3, 2023 to closing day on May 5, 2024. Show your pass to save on lessons, rentals, dining, hotel stays, retail purchases, tickets at partner resorts, and much more!
RECEIVING YOUR PASS
We will send you a "Waiver Invitation" email in the near future with instructions on how to receive your new pass. Have questions? Feel free to email us at info@skilouise.com or call 1 (877) 956-8473.
REFUNDS
There are no refunds on Grade 2 Passes.
Note: See Terms and Conditions for important information regarding liability, refunds, and installment plans.
Grade 2 Season Pass
CA$40.00
Available